The Hypnotist's Bible by Delavar on CD-ROM

Delavar comes from a family, many of whom have been professional working Hypnotists for several generations.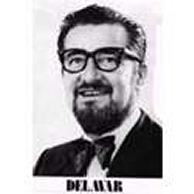 A stage Hypnotist and Hypnotherapist all his life and still working with the information gleaned from consulting rooms, stage shows and research. He has placed within the pages of this work, his knowledge of many years, distilled and crystallised and containing all the information that is needed to become or improve as:- a stage Hypnotist and/or a Hypnotherapist.
This reference work on hypnosis is not a book about hypnosis or fanciful tales built around it, but is the real work on how to hypnotise and how to use hypnosis. It will be the "reference and text book" for all stage hypnotists, research hypnotists, Hypnotherapists etc well into the next century.
Part of it is from an old book written by Delavar when he was very young. The information in that book is just as valid today as when it was first written - circa 1935 - and readers are advised to study its contents very carefully, as they cannot really be improved upon.
Unlike many of today's writings, the facts are presented in a clear concise fashion. With the basic knowledge gained from these works, you may tread the path of hypnosis securely, wisely and profitably.
To learn how to hypnotise is very easy. To use that knowledge successfully is difficult. To make money from that knowledge can be hard. The master of hypnosis need never be out of work or short of money.
Studying the contents of this work closely will help you to become a proficient hypnotist. Many have already done so. Some are millionaires and household names. Reflect. Very few people start off as hypnotists. Most are from other walks of life. Few were born into it. As Delavar says, "I was unfortunate. I have been trying to escape from hypnosis all my life. I am still trapped in hypnotic work. When you are good, the public never lets you go. You have been warned."
This amazing book of almost 200 large format pages is spiral bound and contains Delavan's unique works on both stage hypnosis & hypnotherapy!
It is packed from cover to cover with liquid gold never before revealed in print dynamite information and secrets which have been jealously guarded for years. Delavar was the founder of the "Ethical Stage Hypnotists" and is past president of "The British Council Of Professional Stage Hypnotists".
Indeed this complete course in all things hypnotic was the handbook for members of The British Council & International Council Of Hypnotists. Past members of these groups have included Paul McKenna, Andrew Newton, ken Webster, and numerous other top name hypnotists!
We are proud that Delavar has given us permission to make this dynamite publication available to all students of hypnosis as not only does this course teach you the true inside secrets of stage hypnosis and hypnotherapy, but also Delavar discusses from his own experience the business of hypnosis and suggests many ways to make money and lots of it! To top it all Delavar reveals how to circumvent the 1952 hypnotism act and other hypnotic laws so that you may be able to perform legally anytime, anyplace, anywhere.
If you only ever buy one book on hypnosis, make sure this is the one as the contents are worth many times the price.
Usually ships within 4 days - allow 2 weeks for delivery
Was $199.95 in Hardcover - now on CD-ROM - only $74.95 Order now